MedTrait™ Pharmacogenetic and Complete Medication Management Laboratory Report
GeneTrait™ Laboratories presents MedTrait™ PGx Report for Medication Metabolism and Risk Factor Assessment.
WHAT IS MEDTRAIT?
The most powerful personalized medicine report available.

MedTrait is a laboratory report which combines pharmacogenetics, drug interactions, duplicate therapy awareness and lifestyle factors into a powerful medication and risk factor management platform, offering healthcare providers a tool for personalized medicine, leading to better patient outcomes.
MedTrait bridges the gap between complicated genetic data and clinical guidance, paving the way for better prescribing decisions - quickly and simply - in many areas of patient care including poly-pharmacy, pain management, mental health, cardiology, surgery, pediatrics, OB/GYN and more.
MedTrait is produced and delivered by GeneTrait Laboratories, a division of PTC Labs, Inc. PTC Labs has over 21 years of clinical genetic experience as a leading company in the field. The MedTrait team includes experienced professionals maintaining the most powerful pharmacogenetic reporting platform available.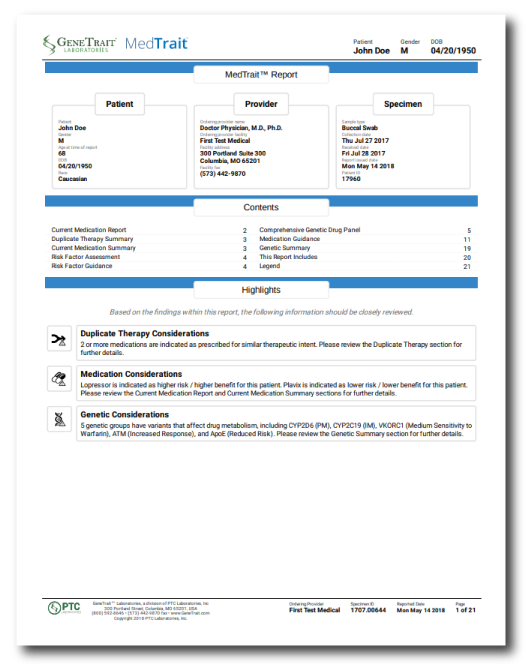 MEDTRAIT TEAM
MedTrait is backed by a team of professionals dedicated to delivering a report with maximum clinical utility and accuracy. MedTrait is a collaborative effort of genetic specialists, clinical laboratory experts, pharmacists and designers, curated by GeneTrait Laboratories.
Laboratory and Genetic Leadership
Judith Miles, M.D., Ph.D.
Charlotte Phillips, Ph.D.
Kim Gorman
Michelle Beckwith
Pharmaceutical Leadership
Rosie Stauder, RPh
Michael Perkins, Pharm.D.
Jordan Voss, Pharm.D.
IT, Features, Design and Implementation
Tim McCarty
John Sabath
Brian Fitzgerald
Michelle Beckwith
Scott Wein
LEARN MORE
Reach out to MedTrait directly.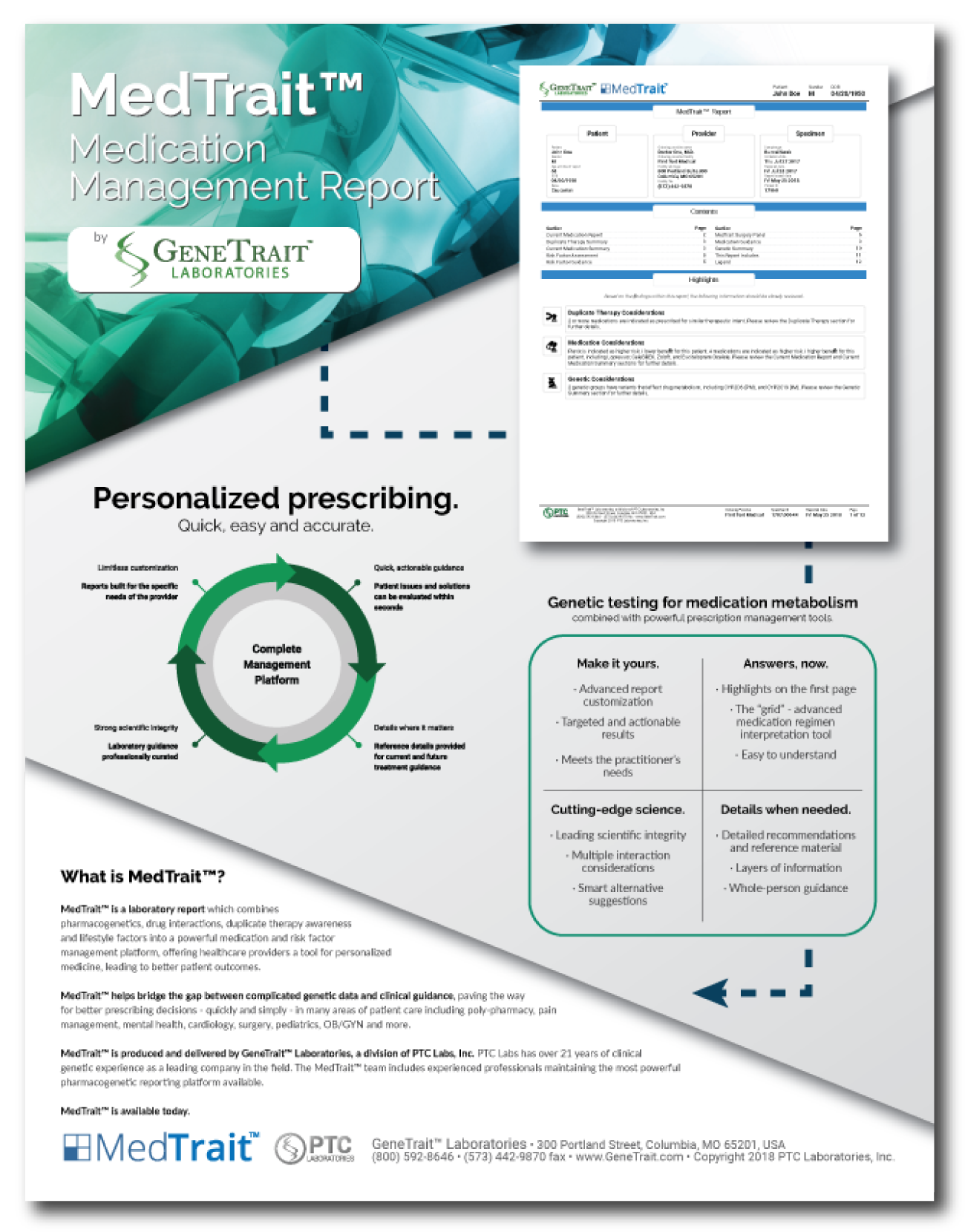 CONTACT THE MEDTRAIT TEAM